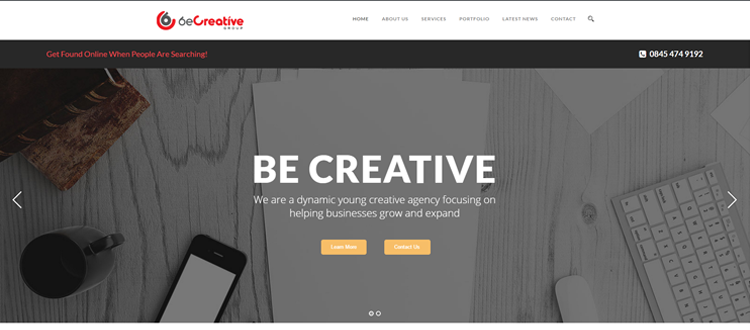 Hi There! This Is Our New Website!
We recently embarked on a journey to give Be Creative a fresh new look. This is why we are more than ecstatic to announce the launch of our new website. It's packed with information that we hope you will find useful and leave you wanting to come back for more. There are many reasons why we are super proud and excited about our new website:
1) Mobile Optimization
Our CEO Andreas Bauer has always stressed the importance of omni-channel and mobile optimized sites, and as usual, he is right. With more than 42% of people in the UK browsing the internet daily and 60% of them owning a smartphone, mobile optimization is more important than ever. We are proud to say that our website is now fully mobile optimized and you can view it across a whole range of devices.
2. Latest News
We've created a "latest news" section on our website where you can catch up on all the latest information about our services, the latest advisory pieces and marketing trends in the digital space. And the best news is that you can find whatever it is you are looking for by doing a simple keyword research.
3. User Friendly navigation
We've made it easy to navigate our website by creating a user friendly interface. You can find information about our products and services without getting confused or overwhelmed.
We Still Offer Dynamic Tailored Solutions
Since we launched in 2011, we've gathered enough knowledge to confidently say that every business has different needs. So we have always ensured that we provide tailored solutions to all our clients. We are an award-winning agency that provides these services:
1.a)Search Engine Optimization
We can increase the visibility of your website within search engine natural results. This is the key to attracting high quality traffic and consequently increasing conversions on your website.
1.b)Paid Search or Pay Per Click (PPC)
PPC is important if you want to achieve high rankings instantly without waiting for organic traffic to boost your rankings. It's a form of advertising where you can display your ads for highly competitive keywords. If done correctly and strategically, you can target the right audience and increase conversions on your website.
1.c)Web Design and Development
It doesn't matter which industry you are in; if you need a website, we can create one that will meet your needs. We also offer value packages for individuals, established companies and new businesses.
We hope you'll take some time to look around and continue allowing us to keep you updated. We also thank you for your continued support to Be Creative.